Private Label & Contract Manufacturing Services
First founded thirty years ago as a manufacturer of soaps for corporate facilities, Petra has evolved and grown into a multinational, GMP certified, one-stop-shop for all personal care and household amenities with over 4,000 customers who utilize our private label and contract manufacturing services.
Our contract manufacturing offering includes categories such as hair care, body care, personal care, cosmetics, household products, wipes, and logistic solutions to name a few.
Petra has helped start-ups, fast growing multi-national brands to large retailers and grocers with their private label and contract manufacturing (formulating, packing, and filling) endeavors. And that is where you come in.
If you're looking for 1000 > 100,000+ piece runs then we're your ideal partner.
Petra wants to help you with your private label & contract manufacturing needs. So, what does Petra do and how can we help your business?
type of products
And much more!
Our two labs and their team of chemists and compounders combined with our production resources enable us to create everything from hair care products like hair gels and mousse to amenities like inhalants. Our state of the art 60,000 sq.ft. facility, includes 12 kettles ranging from 100kg to 10,000kg, four of them are jacketed mixing tanks, and cooling line allow us to make mostly all required liquids and some solids like pomades.
Ranging from 100kg – 2000kg
Our 5 filling lines including a tube-filler, multi-piston head bottle filling lines for a variety of packaging sizes, as well as our hot-fill line for products like pomades, and our in-line labelers make it convenient for you and your business to rely on our speed and variety for your production needs. Whether you're filling bottles, jugs, glass droppers, deodorant sticks or tubes, we have the capacity to accommodate your needs. Not only do we deal with the manufacturing component, we can also help you will all your fulfillment needs with five warehouses coast to coast across the United states and Canada.
Product Categories
Petra's two labs, and team of chemists / compounders, combined with our production resources enable us to create everything from hair care products like hair gels and mousse to amenities like inhalants. Our state of the art 50,000 sq.ft. facility, includes 6 kettles ranging from 100kg to 2000kg, two of which are heating tanks, and a cooling line, allow us to make most liquids and some solid products like pomades or lip gloss.

Here are some examples of products we can make by categories:
Why you should choose us
First and foremost, you should choose Petra because you can trust that in our quality of work. Petra is one of the only companies in Western, Canada with a GMP certification for ISO22716, 2017 edition. This means Petra has developed and deployed over 60 Standard Operating Procedures and 100+ checks and balances, that cover every aspect of how we manufacture products; from (up-stream) processes like quality agreements with our raw material suppliers, to (down-stream) verification processes for our carriers, all geared towards controlling and ensuring quality. What does this mean for your business? You can trust Petra will produce your products with a quality standard that your business can be confident in and your customers will enjoy.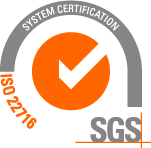 Petra is a progressive and forward thinking (like a lot of our customers) manufacturer. We invest heavily in our teams, technologies, and infrastructure. Our customers can leverage these resources because we understand that the better our customers do, the better we do, and we work tirelessly to stay ahead our customers growth and demands. Providing you with products you love, and services you don't expect. Like our ability to have on-hand safety stock in our world-class distribution network that enable you to get your products anywhere in Canada or the United States within 2-days.
Online Ordering & EDI Compliant
Petra has been servicing over 4,000 customers across North America. As illustrated by the map, Petra has a world class distribution network that can meet any and all of your company's fulfillment needs. Anywhere in Canada or the United states is within a two-day ship point from our warehouses.
Toronto, Ontario
Calgary, Alberta
Buffalo, New York
Atlanta, Georgia
Honolulu, Hawaii
Los Angeles, California
Reno, Nevada
Houston, Texas
Ft. Wayne, Indiana
Choose Petra and you will have over 30 years of experience in manufacturing, access to state of the art production lines, and fast fulfillment services at your disposal. Let us provide your customers with the products they deserve.
Manufacturing
Expertise
Fast turn
around times
Scaling
Capacity
For more information
Contact us at:
vince@petrasoap.com | 1-800-4632516 ext. 220 | Address: 90 Moyal Court, Concord, ON, L4K4R8