Description
Description
Health "E" Wipes - 60 Alcohol Free Antiseptic Wipes | Flat Pack Disinfecting Wipes
HealthEwipes are an antiseptic wipes, which contains Benzalkonium Chloride as an active ingredient that is effective in destroying (harmful) bacteria to provide antiseptic cleaning. These wipes are safe to use on skin.
What can you use HealthEWipes for ?
HealthEWipes are an Antiseptic wipe that are great on messes and safe on skin.
What are the main benefits of HealthEWipes ?
Antiseptic properties the stops the growth of bacteria and germs on skin
Safe on skin
High performing products
FDA registered antiseptic wipe
How many wipes come in a case of HealthEWipes ?
60 wipes per pack
24 packs per case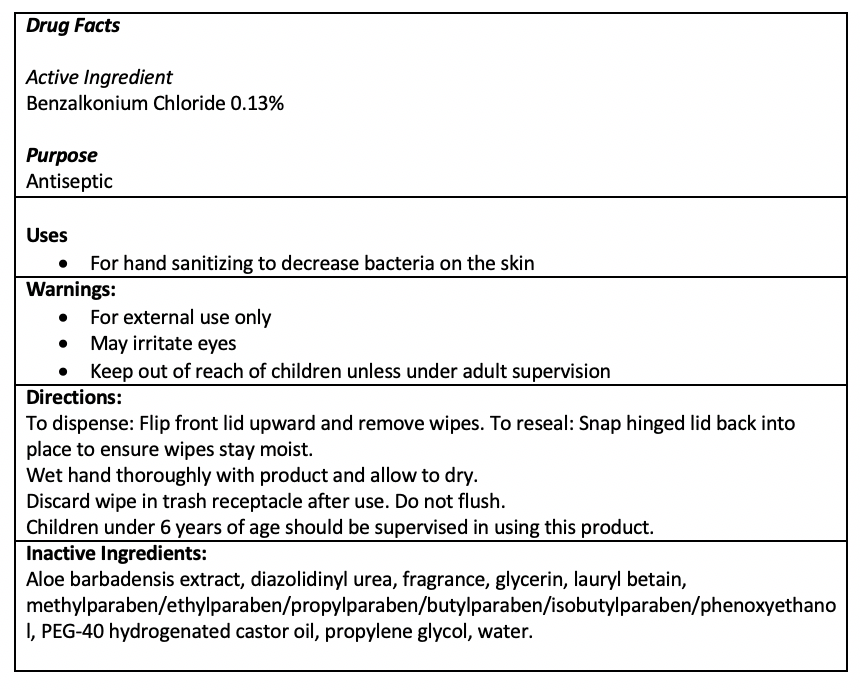 Health "E" Wipes - 60 Sans Alcohol Antiseptique | Lingettes Desinfectantes Pack Plat
HealthEwipes sont des lingettes antiseptiques, qui contiennent du chlorure de benzalkonium comme ingrédient actif qui est efficace pour détruire les bactéries (nocives) pour fournir un nettoyage antiseptique. Ces lingettes sont sans danger pour la peau.

À quoi pouvez-vous utiliser HealthEWipes?
Nettoyant antiseptique (peau)
Quels sont les principaux avantages de HealthEWipes?
Propriétés antiseptiques qui arrêtent la croissance des bactéries et des germes sur la peau
Sans danger pour la peau
Produit très performance
Lingette antiseptique enregistrée auprès de la FDA
Combien de lingettes de viennent dans une caisse de HealthEWipes?
60 lingettes par rouleau
24 rouleaux par caisse de HealthEWipes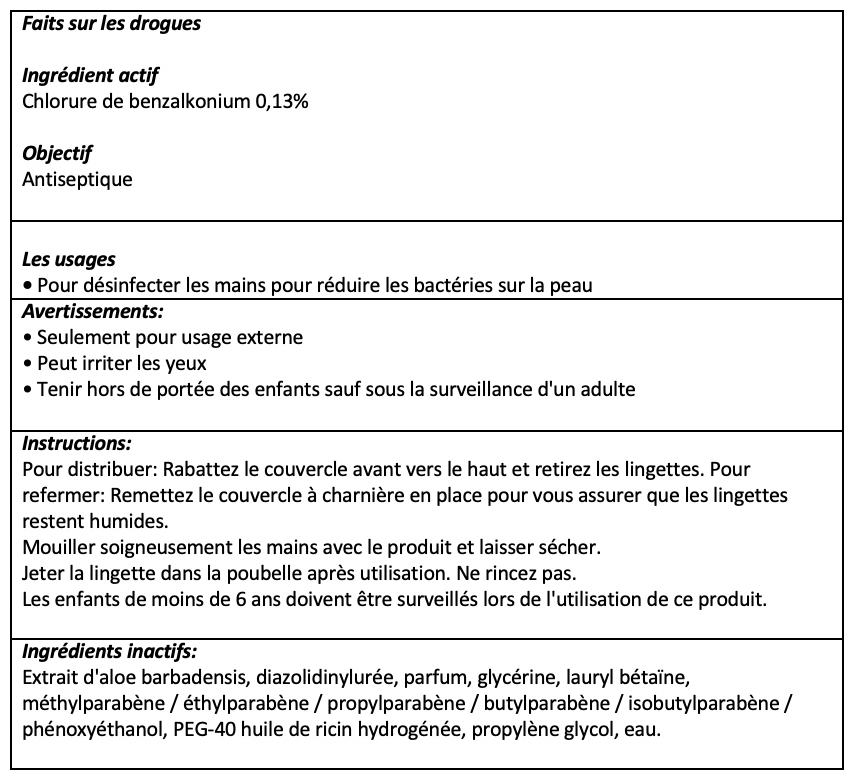 Specifications
Specifications
Product/Produit:
HEALTH "E" WIPES (8.5"x5.75" 60/Pack - 24 PACK/CASE)
Pack Count/Nombre De Pack:
24
Wipe Count/Nombre De Lingettes:

60

Wipe Dimensions/dimension du lingette:

8.5 x 5.75

Active Ingredients/Ingrédients actifs:

Water, Glycerin, Phenoxyethanol, Diazolidinyl Urea, Benzalkonium Chloride, Fragrance, Lauryl Betaine, Propylene Glycol, Hydrogenated Castor Oil, Aloe Barbadensis Leaf Extract, Methylparaben, Propylparaben, Ethylparaben, Sobutylparaben, Butylparaben

Eau, glycérine, phénoxyéthanol, diazolidinylurée, chlorure de benzalkonium, parfum, Lauryl Betaine, propylène glycol, huile de ricin hydrogénée, extrait de feuille d'Aloe Barbadensis, méthylparabène, propylparabène, éthylparabène, sobutylparabène, butylparabène

Shipping Weight/poids d'expédition:
16.8lbs