Description
Description
Health "E" Wipes | Best Antiseptic Wipes in Canada | Meilleures lingettes antiseptiques au Canada
Petrasoap HealthEwipes are the best antiseptic wipes in Canada which contain Benzalkonium Chloride as an active ingredient that is effective in destroying (harmful) bacteria to provide antiseptic cleaning on all gym equipment. These are truly best in class antibacterial wipes are great to use on small to large fitness clubs , wellness centers, hospitals, and bascially anyone who is looking for an effective solution to keeping their high traffic areas clean from bacteria. Petrasoap offers 4 rolls of antibacterial wipes with 1000 antiseptic wipes per roll, so you can ditch the spray bottle and paper towels with confidence. Antiseptic wipes are also great to use on children toys, desk, cubbies, shelves and other places that harmful bacteria can cling onto.
Looking For Dispensers as well?
For more Check out our wide selection of antiseptic wipes dispensers here. And if you're searching for our bestselling dispensers to go with our bestselling antiseptic wipes, then check out our Gym Wipes Floor Dispensers which are now available in a Stainless Steel or Matte Black finish to go with any fitness club decor.
Most effective when used on hard non-porous surfaces, Our Gym Equipment antiseptic Wipes are ideal for removing bacteria from athletic and gym equipment, cycling equipment, weights, yoga mats, fitness balls, benches, lockers and are safe for most surfaces found in fitness facilities and gyms including acrylic, chrome, rubber, vinyl, ceramic tile and fiberglass. These Antiseptic wipes are also
What can you use Petrasoap Health E Antiseptic Wipes for Canada ?
Antiseptic (skin) cleanser

Seating pads, weights, lockers, painted surfaces, & much more!
What are the main benefits of Antiseptic HealthEWipes ?
Antiseptic properties stops the growth of bacteria and germs on skin

Safe on skin

High performing products

FDA registered antiseptic wipes
How many gym wipes come in a case of HealthEWipes ?
1000 wipes per roll
4 rolls (4000 antiseptic wipes) per case of HealthEWipes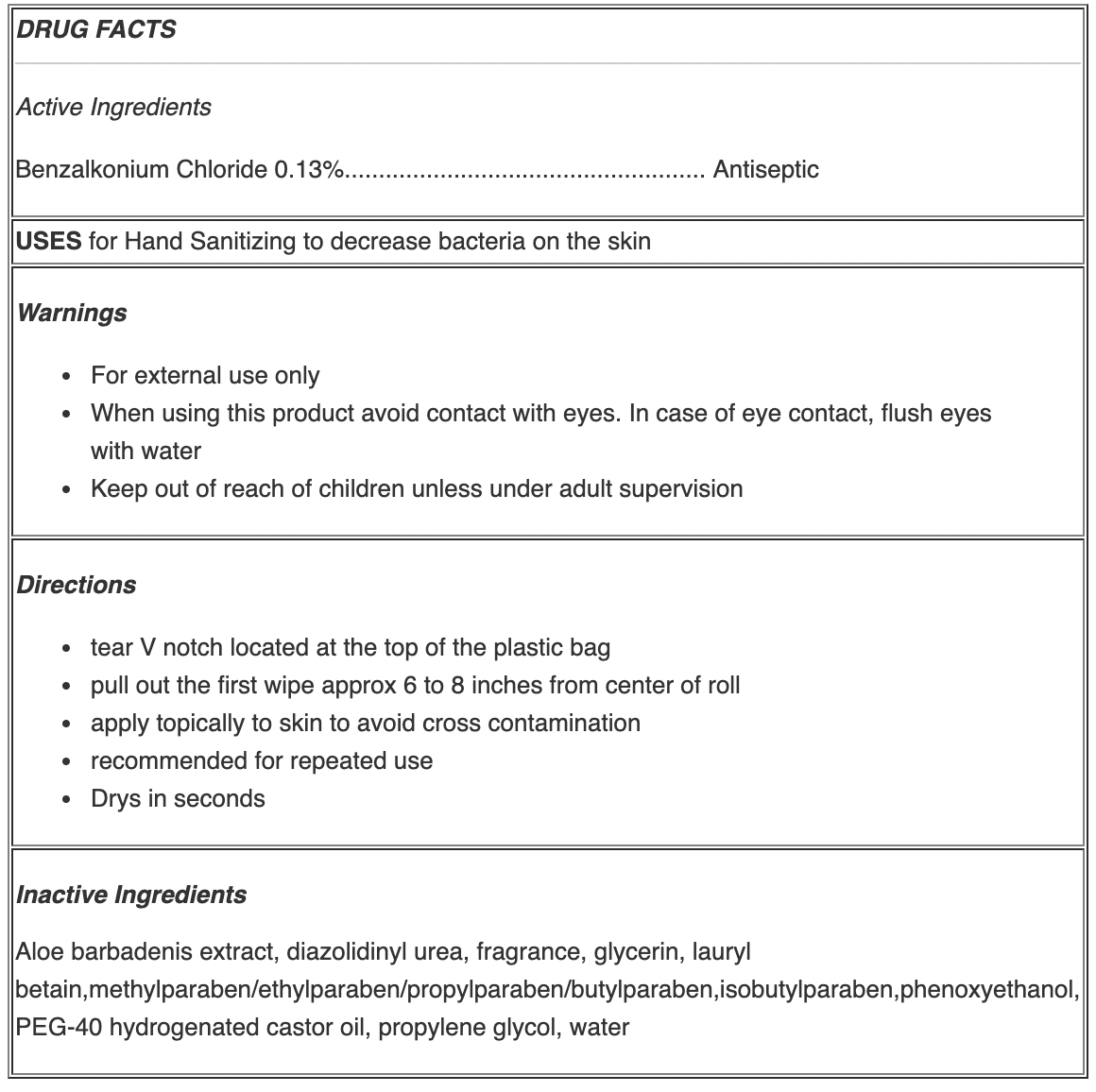 What can you use HealthEWipes for ?
Antiseptic (skin) cleanser
---
HealthEwipes sont des lingettes antiseptiques, qui contiennent du chlorure de benzalkonium comme ingrédient actif qui est efficace pour détruire les bactéries (nocives) pour fournir un nettoyage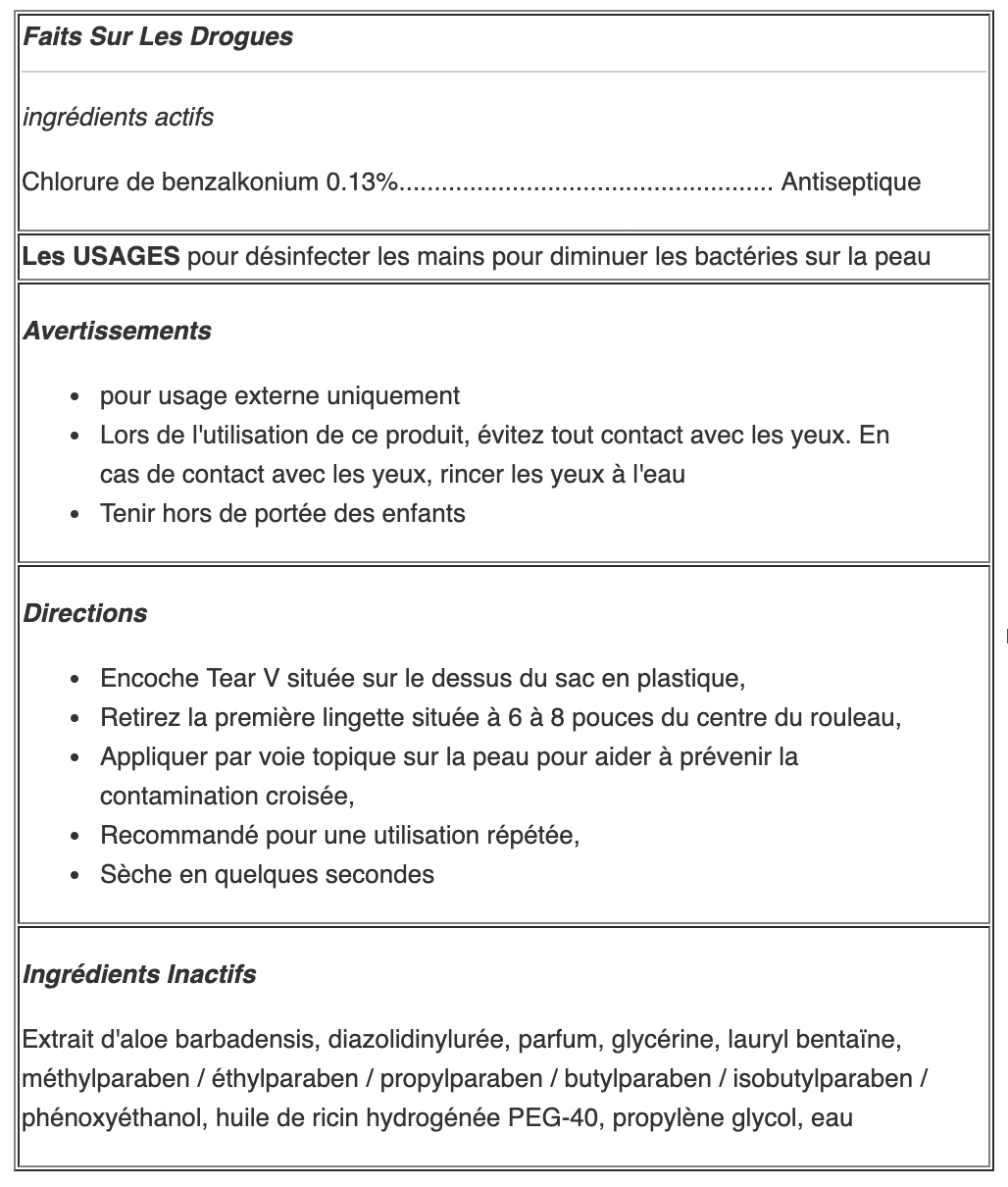 antiseptique. Ces lingettes sont sans danger pour la peau.

À quoi pouvez-vous utiliser HealthEWipes?
Nettoyant antiseptique (peau)
Quels sont les principaux avantages de HealthEWipes?
Propriétés antiseptiques qui arrêtent la croissance des bactéries et des germes sur la peau
Sans danger pour la peau
Produit très performance
Lingette antiseptique enregistrée auprès de la FDA
Combien de lingettes de gym viennent dans une caisse de HealthEWipes?
1000 lingettes par rouleau
4 rouleaux (4000 lingettes de gym) par caisse de HealthEWipes
Specifications
Specifications
Product/Produit:
HEALTH "E" WIPES (6"X8" 1000/ROLL - 4 ROLLS/CASE)
Roll Count/Nombre De Rouleaux:
4
Wipe Count/Nombre De Lingettes:

4 x 1000

Roll Dimensions/Dimension du rouleau:
9.5 x 9.5 x 8
Wipe Dimensions/dimension du lingette:

6 x 8

Active Ingredients/Ingrédients actifs:

Water, Glycerin, Phenoxyethanol, Diazolidinyl Urea, Benzalkonium Chloride, Fragrance, Lauryl Betaine, Propylene Glycol, Hydrogenated Castor Oil, Aloe Barbadensis Leaf Extract, Methylparaben, Propylparaben, Ethylparaben, Sobutylparaben, Butylparaben

Eau, glycérine, phénoxyéthanol, diazolidinylurée, chlorure de benzalkonium, parfum, Lauryl Betaine, propylène glycol, huile de ricin hydrogénée, extrait de feuille d'Aloe Barbadensis, méthylparabène, propylparabène, éthylparabène, sobutylparabène, butylparabène

Shipping Weight/poids d'expédition:
40lbs